Friday, April 15, 2016
Posted by

Teri
at 9:17 AM
1 comments


Links to this post
Monday, February 15, 2016
Chocolate Marbled Vanilla Cheesecake
Posted by

Teri
at 5:12 PM
4 comments


Links to this post
Tuesday, September 15, 2015
Posted by

Teri
at 4:00 AM
1 comments


Links to this post
Sunday, April 26, 2015
Isn't that the best thing about food? It evoke memories of good times, good food, and good friends!
I hope this Mini Mango Cheesecake brings wonderful memories for you and that you make it often. Tropical foods is the theme for #Sunday Supper this week, and when I think of tropical foods I think of mango's. They fit into this cheesecake perfectly. To see what everyone else made, read below.
Posted by

Teri
at 6:00 AM
17 comments


Links to this post
Thursday, January 17, 2013
Banana Nana Cheesecake
Crust
10 Sugar Cones
4 tablespoons Butter, melted
Filling
3- 8 ounce Cream Cheese, softened
2/3 cup Sugar
2 tablespoons Cornstarch
3 Eggs
3/4 cup Mashed Banana (about 2)
1/2 cup Heavy Cream
2 teaspoons Vanilla
1/2 teaspoon Nutmeg
1/2 cup Heavy Whipping Cream
sliced Banana
Preheat oven to 350 degrees.
Place the sugar cones in the food processor, and pulse
until finely crushed. Place the crumbs in a bowl, add your melted
butter and mix together. Press the mix into a 10" springform pan
or 6 small pans. Refrigerate.
Beat the cream cheese in a mixing bowl until creamy.
Add your sugar and cornstarch and blend with cream cheese.
Add your eggs and mix them in.
Mix in your bananas, heavy cream, and vanilla.
Incorporate your nutmeg into the mix.
Place your pans on a baking sheet.
Pour your batter into your pans.
Bake for 15 minutes, then reduce the temperature to
200 degrees and bake for 45-50 minutes for the small pans
and 1 hour and 15 minutes for the large pan. The cheesecakes
are done when the when the center is almost set.
Loosen the edges around the cheesecakes,
and set them on a cooling rack. Once they are completely
cooled, remove the sides.
Refrigerate for 6 hours. Before serving, let the cheesecake stand
at room temp for 15 minutes. During that standing time,
whip your whipping cream with a mixer on high speed.
Add your sugar and whip until stiff peaks appear.
Garnish with dollops of whipped cream and banana.
Enjoy!
Don't forget to check out what everyone else cooked up today!
Posted by

Teri
at 9:00 AM
14 comments


Links to this post
Tuesday, August 7, 2012
Although it is as hot as hot can be here in the desert, I love a roaring campfire and roasting marshmallows after the sun sets. As I thought about all the other things I love about summer, you know s'mores had to be on the list! It's
Crazy Cooking Challenge
day and this month we are making cheesecake! I don't know about you, but I love a good cheesecake too! So, what could be better than S'mores Cheesecake! That's all of my summer loves rolled into one! Yum!
1 1/4 cup finely crushed Graham Crackers
1/4 cup melted Butter
24 ounces softened Cream Cheese
2/3 cup Sugar
1/2 cup Whipping Cream
5 teaspoons Cornstarch
4 Eggs
1 Egg Yolk
1/4 cup Vanilla Flavored Syrup(Torani)
2 teaspoons Vanilla
8 oz. Milk Chocolate(Callebaut)
3-4 oz. Whipping Cream
Mini Marshmallows
This is my "go to" cheesecake recipe. Well, it is if you stop
after the Vanilla in the ingredient list. I used it to create this
s'mores recipe by making a few tasty additions. But, if you are
in the mood for a really good, creamy, vanilla cheesecake
make this. You won't be disappointed. Oh, yeah, change the
graham crackers to nilla wafers. So good!!
Combine the cream cheese, sugar, whipping cream
and cornstarch. Beat with an electric mixer till smooth.
Add eggs and the egg yolk, one at a time, beating well after
each addition.
Beat in vanilla flavoring and vanilla.
Mix together your graham crackers and butter.
Press the mixture into the bottom of your
springform pan. Set aside.
Melt the chocolate in a double boiler set up.
Add the cream a little at a time until a desired
smooth consistency is achieved.
Fill your springform pan with your cheesecake filling.
Leave a little room at the top for the chocolate to be added.
Add about 3-4 spoon fulls of the melted chocolate
to your filling.
Swirl around for a pretty effect.
Place some of the chocolate on top of the cheesecake.
Top with mini marshmallows all over.
Using a kitchen torch, roast the marshmallows.
You can roast them as much or as little as you wish.
Happy Roasting!
Thanks for joining me today!
Let's see what everyone else made: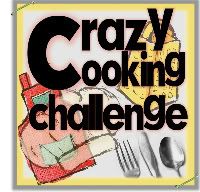 Posted by

Teri
at 12:00 PM
21 comments


Links to this post
Wednesday, February 8, 2012
I have been making this cheesecake forever! I like to write in the margins of my cookbooks, and I usually write down the date I made the recipe and what it was for. I also try to include my thoughts on the recipe, like changes I want to make, or if it was successful or not. From my notes I see that I made this recipe for the first time when my now 22 year old son graduated from kindergarten. I can't count how many other times I have made this. I even made this when I worked as the chef in a gourmet restaurant. This cheesecake is the ultimate cheesecake. It is not dry. It is so creamy and rich. For Valentines Day, I made individual little cakes, topped with chocolate ganache and covered with cherries. You're gonna fall in love!!
3/4 cup finely crushed Vanilla Wafers
a short 1/4 cup of melted Butter
12 ounces softened Cream Cheese
1/3 cup Sugar
1/4 cup Whipping Cream
2 1/2 teaspoons Cornstarch
2 Eggs
1 Egg Yolk
a short 1/4 cup of Vanilla Syrup
1 teaspoon Vanilla Bean Paste
Preheat oven to 350 degrees.
Put about 15 or so Vanilla Wafers in a plastic bag.
Take a rolling pin and crush the wafers until they are
very fine. You can also use a food processor.
Pour crushed wafers into a bowl.
Add melted butter, and mix together thoroughly.
Distribute evenly between the 3 pans.
Using your fingers, smooth the wafers over the bottom
of the pan, making it as evenly as possible.
Set pans aside while you make the filling!
In your bowl, combine together the softened cream cheese
and the sugar.
Add the whipping cream and the cornstarch.
Beat with an electric mixer until smooth.
To get the smoothest possible mix, your cream cheese
should be very soft when you begin.
Add the eggs and the egg yolk, one at a time, beating
after each addition.
Add the vanilla bean paste and the vanilla syrup.
If vanilla bean paste is not available, use vanilla extract.
I like to use this paste because the flavor is so intense.
It especially comes out in this recipe.
You can see the little flecks of bean in the picture!
Pour the cheesecake mix into the pans.
This recipe makes three individual cakes!
Place all three in the oven.
Cook at 350 degrees for 8 minutes. Turn down the temperature
to 200 degrees and bake for approximately 50 minutes.
To check to see if they are done, stick a toothpick in the
center like you would a cake. Also make sure the center
of the cakes do not look wet or shiny.
When you take the cakes out of the oven, let them sit
on a cooling rack. Take a knife or offset spatula around the
edge to loosen the cake. Don't release the pans right now.
Wait at least 30 minutes, so they have a chance to cool.
Then you can release the pans, but let the bottoms stay on for a while.
When the cakes are completely cooled,
wrap in plastic and place in the fridge to chill. Still keep the bottoms on,
or transfer them to some other type of base.
1 cup Milk Chocolate Chips
1/2 cup Whipping Cream
Place the chocolate chips and the whipping cream
into a saucepan and heat on low.
Stir the entire time, to melt the chocolate,
until it is beautiful and smooth.
Place chocolate on top of the cake,
covering the entire top.
Cover the top with the chilled cherries!
Enjoy!
Happy Valentine's Day!!
This recipe comes from a cookbook called
Cheesecake Extraordinaire by Mary Crownover.
I have changed the recipe some. If you would like to make
a large(9" springform pan) cheesecake, double all of the ingredients,
except for the egg yolk. Still only use one!
You can also use vanilla liquor in place of the vanilla syrup.
Posted by

Teri
at 10:49 PM
5 comments


Links to this post
Saturday, July 23, 2011
And it's HOT, and I would love a treat!!!
We will start with our crust. I made a mini cheesecake.
Sometimes, it's not a good idea to have left over dessert
at my house! The ingredients are for the mini size. If you want to
make a full size cheesecake, multiply the recipe by 4.
3 oz. Graham Cracker Crumbs
1 1/2 oz chopped Macadamia Nuts
1 1/2 teaspoons Sugar
1 1/3 oz. Butter
In a bowl, mix together the graham cracker crumbs,
the macadamia nuts, and the sugar.
Melt the butter, and add it to the bowl. Mix together.
Scoop the crust mix into the cheesecake pan.
Tamp the mix all around the bottom of the pan.
Set aside while we make the filling.
6 oz. softened Cream Cheese
3 1/2 oz. Sugar
2 oz. Sour Cream
2 1/4 teaspoons Flour
1 Egg
1 3/4 oz. Key Lime Juice
1/4 teaspoon Vanilla Extract
Cream together the sugar and cream cheese.
Add in the flour and sour cream.
Add the egg and mix well.
Add the lime juice and vanilla. I used fresh
key limes for my juice. To juice the key limes I...
rolled my cutting board over the lime several times
to loosen the juice and pulp. Then...
cut the limes in half,...
take the seeds out,...
hand squeeze the key limes into a measuring glass,
making sure to remove all seeds that fall in.
Taste the batter to make sure you are happy with the
amount of key lime taste. If you want more, add more juice.
Pour your filling mix into the springform pan.
Bake for about 30 minutes.
When a toothpick poked into the middle of the
cheesecake comes out clean, take it out of the oven
and let it cool on a cooling rack.
After the cheesecake is cooled, take a stick or
knife around the edges to loosen them.
Loosen the pan handle and remove the ring.
Remove the cheesecake from the base of the pan.
Top the cheesecake with sliced strawberries.
Enjoy!!
Thanks for joining me today!
I hope to see you tomorrow for
something special!
See you then!
Posted by

Teri
at 3:39 AM
6 comments


Links to this post