Tuesday, March 15, 2016
Posted by

Teri
at 1:41 PM
0 comments


Links to this post
Sunday, August 23, 2015
I am sushi lover, so when I heard that the theme of this weeks #SundaySupper was Asian Cuisine, I was super excited! Asian food is one of my favorites. I have made homemade sushi several times in the past, but it has been a while, so I was a little rusty on technique, but it came back quickly, and it was very tasty! It was also a lot of fun, and it is a great activity to do for a family meal or party with friends. When we have friends over we always end up at the kitchen counter anyway! So have fun with this ~ that's what it's all about!
Posted by

Teri
at 2:00 AM
12 comments


Links to this post
Monday, April 8, 2013
Buffalo Chicken

Meatballs
with Tangy Blue Cheese Sauce
1 Egg
4 teaspoons Hot Sauce, divided
1 pound Ground Chicken Breast
2 tablespoons plain dry Bread Crumbs
1/4 cup diced Onion
1-2 teaspoons vegetable Oil
Blue Cheese Sauce
1/2 cup plain nonfat Greek Yogurt
1/4 cup crumbled Blue Cheese
2 tablespoons finely chopped Celery
1 tablespoon mayo
medium bowl until smooth and blended well.
Cover the bowl and refrigerate for 10 minutes.
frying pan with 1-2 teaspoons of vegetable oil.
Brush the meatballs with the remaining 2 teaspoons
of hot sauce. Brown the outsides of the meatballs.
place them in your crock pot.
Add the sauce from your bowl to the crockpot.
Add more hot sauce if you would like to turn up the heat.
Let the meatballs and sauce cook for 2 hours on high
or 4 hours on low.
in a small bowl. Blend together and refrigerate for at least 30 minutes.
and enjoy the game!
Thanks so much for joining me today!
I am so happy to be back blogging, and I appreciate
you reading this!
Posted by

Teri
at 11:42 AM
0 comments


Links to this post
Monday, July 23, 2012
Cookin' with Moxie
, for this months
Secret Recipe Club
, I was thrilled. Cookin' with Moxie is a wonderful blog written by Jamie, whose blog is stuffed as full as these pasta shells of delicious sounding and beautiful looking foods. What to make was a difficult decision, but I finally decided on Jamie's
4 Cheese Stuffed Shells
. They were so delicious, and cheesy and just yum!!
4 Cheese Stuffed Shells
1 pound Jumbo Pasta Shells
30 oz. Ricotta Cheese
2 1/2 cups Mozzarella, divided
1 cup grated Parmesan Cheese
1 cup Provolone Cheese
1 teaspoon Garlic Powder
1 Egg
2 tablespoon minced, flat leaf Parsley
2 tablespoon chopped, fresh Basil
Salt and Pepper to taste
3 cups Marinara Sauce, preferably homemade
Preheat oven to 350 degrees
Bring a large pot of water to boil. Add pasta.
Cook the shells until soft but not cooked through
(about 1/2 the cooking time on the box)
Drain pasta and set aside until the filling is ready.
Place the ricotta in a bowl.
Add 1 cup of the mozzarella and the Parmesan.
Add the provolone.
Mix together.
Add the garlic powder, egg, parsley, basil, salt and
pepper. Mix thoroughly.
In a 13X9 casserole dish, pour in half of your
marinara sauce.
Fill your partially baked shells with the cheese filling.
Place the shells in your dish on top of the marinara.
The shells should be open side up.
(I used a smaller dish)
Place the rest of your marinara on top of the shells.
Top the marinara with 1 1/2 cups mozzarella cheese.
Garnish with minced basil and parsley, if desired.
Cover your dish with foil, and bake for 30-40 minutes.
Uncover and continue to bake for an additional 15-20 minutes,
or until the sauce starts to bubble.
Serve immediately.
Enjoy!
Thanks for joining me today!
Stop by and see what all my fellow Secret Recipe Club members made:
Posted by

Teri
at 12:00 PM
14 comments


Links to this post
Wednesday, July 11, 2012
Black Forest Mini Cupcakes
1 box Duncan Hines Devil's Food Cake Mix
3 tablespoons Unsweetened Cocoa Powder
1 1/3 cups Buttermilk
1/2 cup Vegetable Oil
3 Eggs
1 teaspoon Vanilla
Fresh Cherries
Chocolate Frosting
8 tablespoons Butter
2/3 cup Unsweetened Cocoa Powder
3 cups Confectioner's Sugar
1/3 cup Milk
2 teaspoons Vanilla
1/4 teaspoon Salt
Preheat oven to 350 degrees.
Pit your cherries. You will need 2 cherries per cupcake
for the filling, and 1 cherry, pitted, but with the stem on
for the garnish on top.
Combine the mix, 3 tablespoons of cocoa powder,
buttermilk, oil, eggs, and vanilla in mixing bowl.
Mix for 1 minute on low.
Scrape the bowl, and mix again on medium for 2 minutes.
I used 2 ounce souffle cups for cupcake wrappers.
Put a small spoonful of batter in the bottom of the cup.
Place 2 pitted cherries on top of the batter.
Cover the cherries with more batter.
Fill the cups about 3/4 full.
Bake for 15 minutes.
Cool on a cooling rack.
While your cupcakes are cooling, make your frosting.
Place 8 tablespoons butter and
2/3 cup of unsweetened cocoa in bowl.
Blend on low until combined.
Add confectioners' sugar, milk, vanilla and salt.
Beat on low for 2-3 minutes. If the icing is too thick, add
more milk. If it is too thin, add confectioners' sugar.
Using a Wilton #5 tip, pipe the chocolate frosting
on top. Garnish by pitting the cherry, but keeping it
in as good a shape as possible. Top cupcake with cherry.
Enjoy!
Thanks for joining me today!
Stop by tomorrow and see what we are making
for tomorrow's mini!
This is our mini giveaway I mentioned above.
You can enter every day until Sunday. The giveaway
ends Sunday at 11:59 pm PST.
Enter by leaving me a comment telling me what your favorite
mini dessert is. You can enter once a day! Get 2 extra entries
by liking us on
facebook
, and following The Freshman Cook.
If you enter everyday, and like us on facebook, and follow us
you will have 9 entries!
Posted by

Teri
at 1:30 AM
9 comments


Links to this post
Tuesday, July 3, 2012
Red, White and Blue Centerpieces
Red, White and Blue Curling Ribbon
E6000 Glue
Dollar Store Clear Candlestick
Dollar Store Candle Plate
Straight Pins with balls at the end
Styrofoam (cut into 1" squares)
I made 5 of these centerpieces for the 4th of July,
so I needed a lot of ribbon. To speed up the cutting, I
wound the ribbon around a piece of cardboard about 30 times.
Then I cut the ribbon at the end of the cardboard on one end,
and then cut it at the other end. I put the ribbon in
a bag with a bottom that stands up. I accessed my
ribbon from the bag easily.
To begin, glue the candlestick on to the bottom of
the candle plate. Let dry.
Glue the pieces of styrofoam onto the top of the
candle plate, like the picture.
I curled the ribbon and attached it before curling anymore.
There is no wrong way to curl it. Some of mine was loose,
and some very tight.
Attach the curled ribbon by placing the pin in the center
of your curled ribbon, and then sticking the pin into the
styrofoam. I used the pins with the balls in the top
because the ones without the balls rip through the ribbon
and don't hold it well. Attach ribbon in the front,
the sides and the top. Don't attach the ribbon to the inside
of the styrofoam square. You need to leave room for
the candle.
Keep attaching ribbon to fill in each of the squares.
There is no point of perfection with this project.
At the end, I went back and added ribbon where
I thought it might be a little low in puffiness.
Also, don't worry about the pins showing. They will
get covered up by the ribbon.
See how the blue ribbon is long and the red ribbon is short.
It should look that way.
Continue until your foam is full of ribbon!
Add your candle.
There are lots of ways to make this centerpiece.
You could make it less full than I did.
You could also attach a 4th of July sign to it,
or maybe some flags.
The best thing about this design is that you can change it
to match any party decor.
Thanks for joining me on Day 13 of
"15 Days of Red, White and Blue"!
Have fun and Happy 4th!
We are partying at the following fun spots:
Tasty Tuesday
Posted by

Teri
at 12:22 AM
1 comments


Links to this post
Monday, May 7, 2012
Crazy Cooking Challenge
time! This month our challenge is Grilled Cheese Sandwiches. I have never been a huge fan of grilled cheese sandwiches, but after making and eating the recipe I found, I have had a change of heart! I found the perfect, yummy grilled cheese sandwich on a blog called
i am a food blog
. What a wonderful blog! It's full of delicious recipes that I want to try and you will too! There is a fantastic recipe for Tomato Basil Bufala Salad, a Pizza Dough recipe, and a recipe for a porchetta sandwich with a Salsa Verde sauce that looks and sounds incredible. I can't wait to give them a try!
I picked a Crab Rangoon Grilled Cheese Sandwich to make. Oh, so yummy! It is creamy, saucy, a little messy, and a bit rich. Oh, did I add delicious?! Because it is!! I made this Grilled cheese on regular white bread. When I make it again, I think I will use the mini flat style buns. They will give this yummy treat the elegance it deserves!
Crab Rangoon Grilled Cheese
2 slices Bread
1 tablespoon Butter (softened)
1 1/2 tablespoons Cream Cheese (softened)
1 tablespoon sliced Green Onion
2 tablespoon Crab
Sale and Pepper to taste
a couple drops Sriracha Sauce
Mix the cream cheese, green onion, and crab
in a bowl. I used the flake style imitation crab. Next
time I would like to try this with the real crab.
Add salt and pepper to taste. I did not add salt,
because the crab added plenty for me. Drop in a few
drops of sriracha sauce. Taste to see if you want more.
Spread your bread with the mix.
Split your tablespoon of butter between the two
slices of bread, and grill on medium to low heat.
Watch your bread carefully, as it can burn in no time.
I speak from experience.
Enjoy!
I will be seeing you again!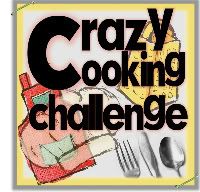 Posted by

Teri
at 12:03 PM
17 comments


Links to this post