There are a lot of things that say Christmas, but nothing says it more to me than gingerbread! I love the combination of gingerbread and tapioca together and I think you will also! This recipe for Gingerbread Cookie Cups w/ Tapioca Pudding is perfect for large groups. The recipe can be made in stages over the period of a couple days, if needed! They keep well in the fridge also!
We are
celebrating
Buffet Menu Ideas today
,
and this recipe
works great for large groups, as well as small. The cookie cups are festive and full of color, making your buffet table stand out beautifully!
Gingerbread Cookie Cups w/ Tapioca Pudding
(printable recipe at end of page)
(makes 20-24)
Gingerbread Cups
1/2 cup Shortening
1/2 cup Sugar
1 teaspoon Baking Powder
1 teaspoon Ground Ginger
1/2 teaspoon Baking Soda
1/2 teaspoon Ground Cinnamon
1/2 teaspoon Ground Cloves
1/2 cup Molasses
1 Egg
1 tablespoon Vinegar
2 1/2 cups Flour
Tapioca Pudding
1/3 cup small pearl Tapioca
3/4 cup Water
2 1/4 cups 2% Milk
1/4 teaspoon Salt
2 Eggs, separated
1/2 cup Sugar, divided
1/2 teaspoon Vanilla
Royal Frosting
find recipe here
Beat together the shortening, sugar, baking powder, ginger, baking soda, cinnamon, and cloves. Scrape the bowl, and then add the molasses, egg and vinegar and combine the ingredients. Start adding the flour, a little at a time, until combined. Divide the dough in half and wrap in plastic. Chill in refrigerator for 3 hours.
Using a mini cupcake pan, roll the dough into small balls and place in pan. Bake at 375 degrees for 5-6 minutes. Stick a toothpick into the balls to check to see if they are done.
Immediately use an object with a rounded end, and insert into the balls creating an edge and an indentation in the ball. If the gingerbread is not cooked enough, place back in oven for 2-3 minutes, and after taking them from the oven, once again use the round ended object to indent again. Let cool, then place in a container to keep fresh.
Soak the tapioca pearls in a pan with the water for 30 minutes. After that add the milk, salt, and a 1/4 cup of the sugar. Lightly beat the egg yolks, and add them also. Stir over medium heat until boiling. Then turn to very low and simmer uncovered for 10-15 minutes. Stir often.
Beat the remaining egg whites and remaining 1/4 cup of sugar until soft peaks appear. Temper the whites by softly adding 3/4 cup of the hot tapioca to the whites, stir once, and then add back into the saucepan. Stir over low heat for about 3 minutes. Cool 15 minutes then add vanilla. Cool completely.
Prepare royal icing. Cut recipe in half. Find recipe here. Pipe royal icing around the top of the cookie cup.
Place cookie cup face down into a small bowl of decor.
Twist or push down to get sprinkles to hold.
Fill with cooled tapioca pudding. Sprinkle with nutmeg.
Thank you for dropping by today!
Buffet Menu Ideas #SundaySupper
Abundance of Appetizers
Sundry of Savory Dishes
Desserts by the Dozen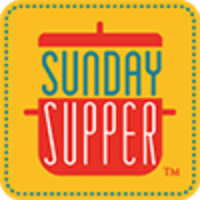 The Sunday Supper Movement is committed to bringing our readers delicious recipes that encourage them to gather and eat together around the family table. Search for your favorite ingredients on our
Sunday Supper website.
Also check out the
Sunday Supper Pinterest boards
for plenty more ideas and inspiration.