Welcome to The Freshman Cook, 2018 and the first recipe of the year! I am so happy you are here!!
Sitting down and enjoying a meal with family is one of the greatest pleasures of life, and something I love to do whenever possible. Today I am sharing one of our favorite meals to share together, Pork Fingers with homemade French Fries! This meal comes together quickly, can be made ahead of time, when there's a time crunch, and you won't believe how many pork fingers you can eat! They are addicting!
Pork Fingers w/ Homemade Fries
(feeds 2-3 children or 2 adults)
(printable recipe at end of page)
2-3 pound Pork Loin
1/2 -1 cup Flour
3-4 Eggs
1 sleeve Saltines (4 oz)
1 teaspoon Black Pepper
1 tablespoon Garlic Powder
Potatoes
Dipping Sauces
Cut off any fat that is on the pork loin when you unwrap it. Cut 2-3 slices from the loin, depending on how many you want to make. Cut strips starting along the edge that is the longest.
Gather 2 bowls and a plate. Put a half cup of flour on the plate. In one of the bowls, use a mixer to beat 3-4 eggs. In the other bowl mix together 4 ounces of crushed saltine crackers, 1/2 teaspoon of pepper and 1 tablespoon of garlic powder.
Set up an assembly line with the flour, egg and cracker mix. Dredge the pork fingers through the flour, covering completely, then pull them through the egg, and then into the cracker mix, and roll them around for total coverage.
The fingers can be made ahead of time, and placed on a tray. Keep refrigerated or frozen until you are ready to use them.
While the chicken is in the refrigeration, cut your potatoes. I like all the french fries to be as close to the same size as possible. It helps tremendously with the frying, because they all get done at the same time, and they look much prettier on your plate. This is how I get them to be as close in size as I can: Peel the potatoes. Cut each potato in half. Then cut each half in half. So you have four quarter potatoes. Slice the first one, like above in the third picture. Then slice the other three quarters exactly the same. All four quarters will look like the first one you sliced.
Place the cut potatoes in to a bowl of cold water. Let the water run until the water is clear. Dry potatoes in a couple paper towels, rolling them around until dry.
Fry the chicken first, and then the fries. The chicken will stay hot longer. Fry at 350 degrees.
Let the pork fingers drain on a paper towel while the french fries are frying. Take out fries and allow them to drain.
Serve with ranch, sirracha, BBQ sauce, or whatever your favorite dipping sauce is!
Thank you for joining me today! Scroll down just a bit to find an entire list of delicious family meals and desserts to serve for your #SundaySupper!
Sunday Supper Recipes
Super Sunday Entrees
Sweet Sunday Desserts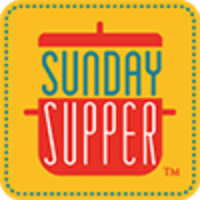 The Sunday Supper Movement is committed to bringing our readers delicious recipes that encourage them to gather and eat together around the family table. Search for your favorite ingredients on our Sunday Supper website. Also check out the Sunday Supper Pinterest boards for plenty more ideas and inspiration.